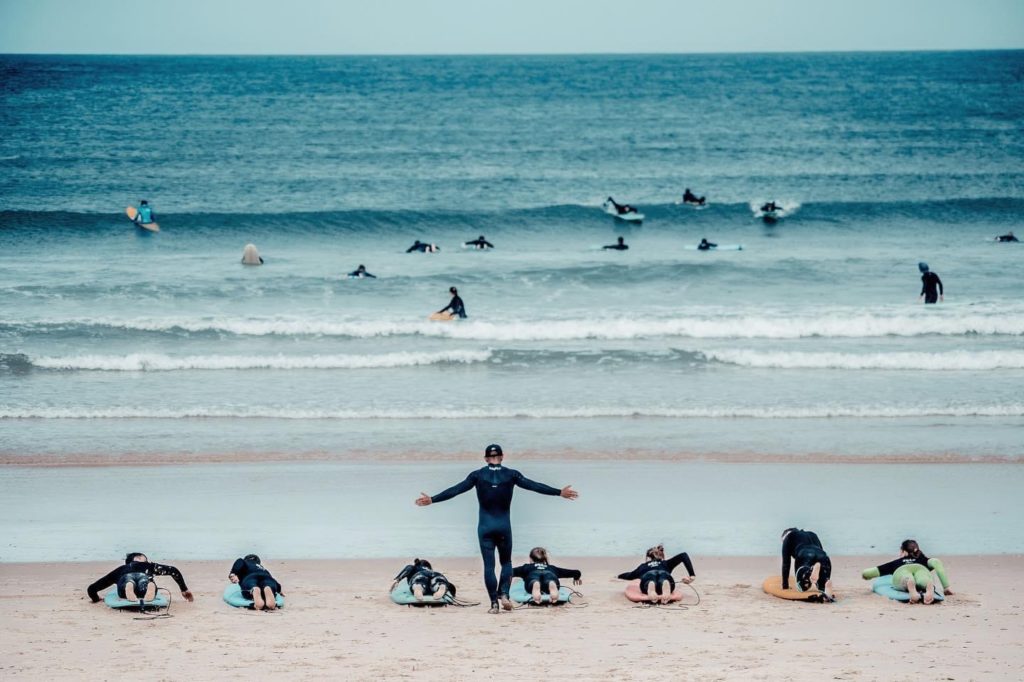 If this will be your first time surfing, level 1 is right for you. Our highly experienced team will guide you through the first stages, getting you standing on the board and teaching you vital information about handling yourself in the water. We aim to get you to beaches with small, manageable waves, gradually building your confidence through the week.
This offer can be booked for stays of 3 nights or more.
FROM EUR 384.00 PER PERSON / WEEK
What's Included?
Agadir Airport or Bus station pick up and drop off
7 Nights Accommodation
Surf Coaching 5 days/week
Supervised Free Surf 5 days/week
Surf Teaching & Theory 5 days/week
Transportation to the surf spots
Surf Equipment
Bed Linen & Shower towel
7 Healthy and Nutritious breakfasts
Packed lunch on beach
6 Organic and Tasty dinners (every Friday the kitchen is closed)
Shopping trip to the local market (every Wednesday)
Trip to paradise valley (every Wednesday)
Taghazout Surf Waves Team at hand 24/7
Free Wi-Fi available in rooms
Typical Day
08.00 – 08.45 Breakfast
09:00 Walk to the Board Room to get equipment and pack the car
09:30 Road trip to search for the best waves
10:30 – 12:30 Surf lesson
13:00 Lunchbreak on the beach
14:00 Practice time
16:00 Start packing and drive home
18:30 – 19:30 Yoga class on Mon-Wed-Fri-Sun (optional)
19:30 Dinner time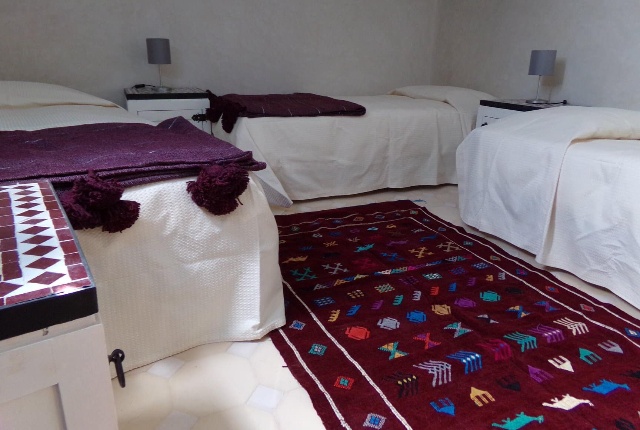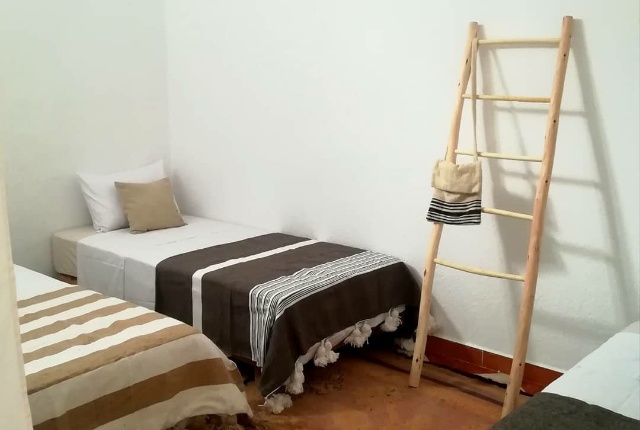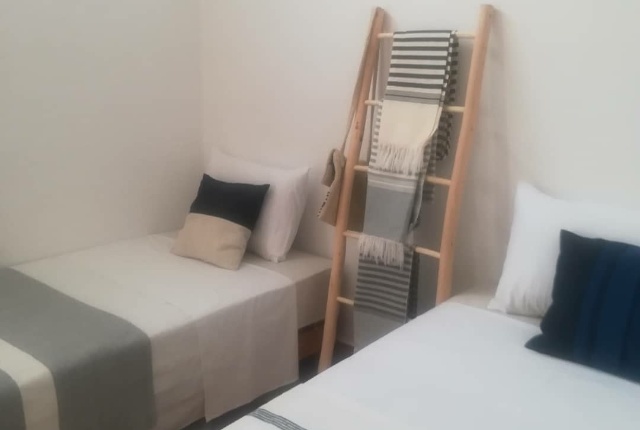 Our dorm room with is the perfect choice for groups of friends and solo travelers in a budget. A large room that will change your concept about dorm rooms, where you can have a good rest and recover all the energy spent during the surfing sessions.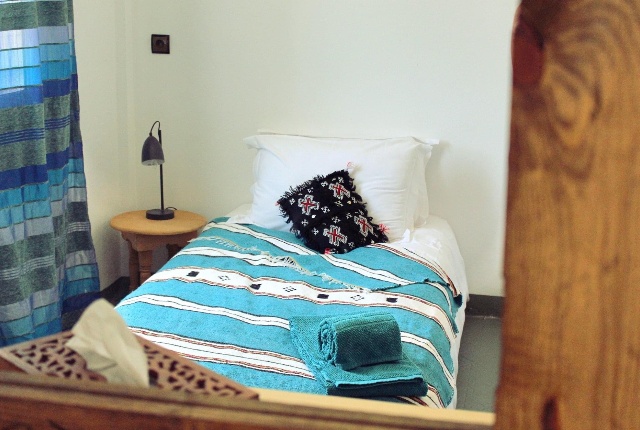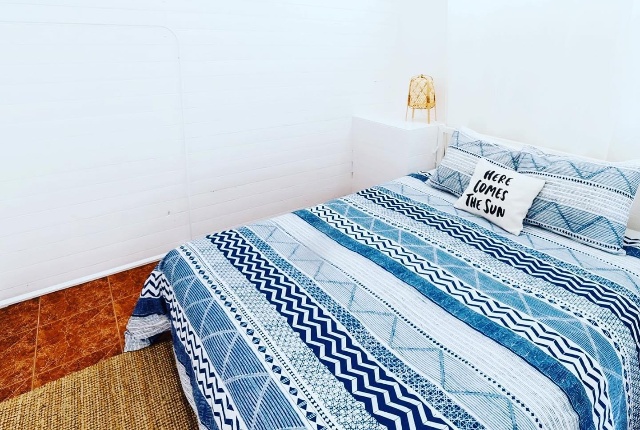 A comfortable room with two standard size single beds, can be arrange also as one comfortable double bed. The room offers a partial ocean view, has air conditioning, and Wi-Fi access.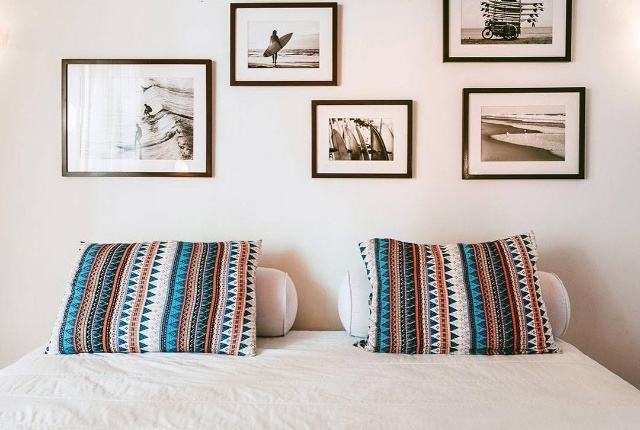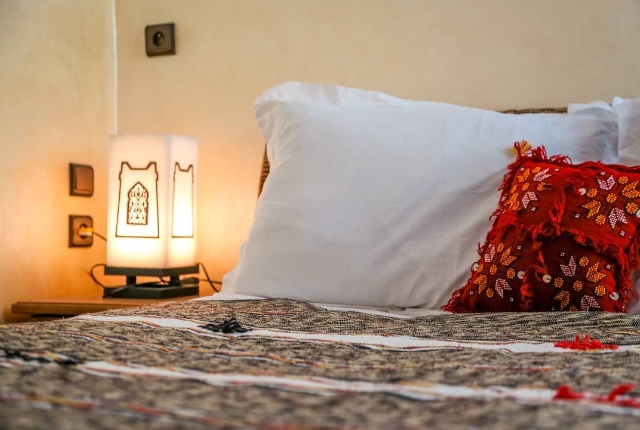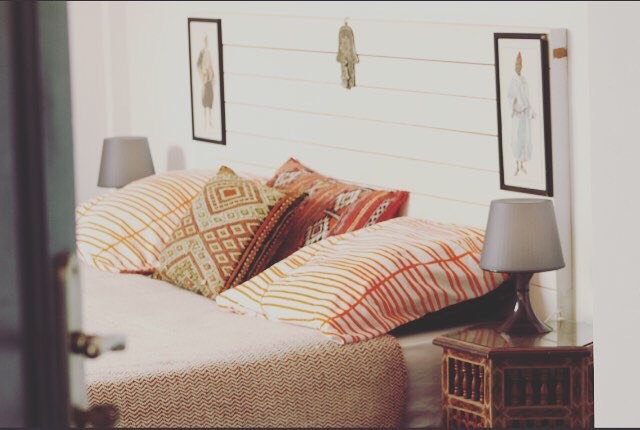 Our double rooms are the perfect choice for couples or solo traveleres that want an extra of privacy and comfort staying in a private room, decorated and designed with love by our interior will inspire your dreams, has air conditioning and Wi-Fi access.
HOW TO GET HERE
Easiest way to Taghazout
The best way to get here is flying to one of the bigger cities in Morocco, Agadir, about a 45-minute drive from our surf camp in Taghazout. Flying into Marrakesh is also an option if you want to explore this mesmerizing city as part of your holiday. Marrakesh is situated about three hours from the camp. We arrange transfers from both airports directly to the camp. There are also options to get here with public transportation or taxi services for you and your friends.
Taghazout Surf Waves Experience
[video_play src="https://youtu.be/Gk4bciAheeg" width="800" size="icon-large" style="icon-light" icon="fa fa-play-circle-o"]

Taghazout Surf Waves holiday: Are you happy? Yes I am very happy!!! We just had a very nice surf vacation with my friends at Taghazout Surf Waves. The place is very nice, the owner of the place, Momo, his brother Abdul and all of Momo's team took care about of us, They were very helpful and they are really nice people. They took care about surf, all surf equipment, food, accommodation, transportation and all of our needs. I really recommend the place and Momo to everybody.
"Booking this retreat was the best decision ever:)" What an amazing place it is! I don't even know where to start… Momo is the most generous, welcoming, friendly and kind host possible. He is willing to help you with absolutely anything. From going to an ATM a village away to finding a place to print our boarding passes. He spoiled me and my sister with free pancakes, morrocan tea, interesting conversations, laughter, an amazing room change and so much more. He works incredibly hard and does it all to guarantee his guests have a great time! The place itself is very charming; beautiful view with a great rooftop in a quiet part of the town. Every morning, mid-day and evening we ate at the restaurant of Momo. The food is extremely tasty and fresh and we could order whatever we wanted! Try the calamari tajine! The people working there were very friendly. It's a fun place to hang around. Every morning we had a private surf class from the best teacher of Taghazout; Hamza! Not just a good teacher, but also great company with whom we had the funniest conversations. Every night we had a private yoga class at the rooftop from teacher Kevin. Who was incredibly helpfull, patient, talented and also great company! Yoga while looking how the sun touches the ocean.. what else could a person ask for? Overal; we loved it! The town, the people, the lovely dogs and the ocean. We are 100% coming back:)! Thank you!
Michientspannt
2020-02-23
Surf and Yoga relax holidays I had a wonderful time at the surf wave hostel. My host Mo and his crew where just wonderful. I booked a package with surfing, yoga, board and lodging. They took great care of everything. Room was nice, terrace with a wonderful view, 3 minutes to Florida restaurant, good food (national and European) about 5 to 10 minutes walk to the beaches. Surfing and surfteacher hamid were great, he didn't push and tried to teach sustainable. Yogateacher Joana was wonderful and took great care for my needs. I really felt home and will come back soon! Thanks Mo!!!

Great company and well looked after I stayed here in January to do some surfing and relaxing, Momo was a great host and looked after me throughout my stay he runs a local restaurant where I ate every night and had fantastic food, Momo really treated me like one of his family. Surfing lessons were very valuable although the surf wasn't great, Most days it was a one-on-one and time ran well over the allocated slots. Can't wait to visit again.

Amazing! Very good treat, fun day! We had a cool experience and surf class during the morning. Great teachers and service, definitely recommended to anyone! The waves are great especially for learners and first-timers.

Tagazhout everything was wonderful … Momo is the best host …. his team is friendly and kind … they always took us to the best beaches for surfing … the accommodation was clean, the food delicious, all our requests were met …. 14 we went everyone had a good time … we go back every month …. i'm grateful …. 😊😊

Ms Felt so safe and happy in this amazing place. Friends have become like family. The surf experience there is 2nd to none and the coaches know exactly where to take you based on your ability. The surf house is perfectly decorated and the meals are traditional and so full of flavour
Wonderful trip Wonderfully place! Beautiful design, so nice staff, delicious food, every detail is prepared to have magic holiday. Special thanks to abdo, surf instructor who helped me to progress and catch green waves 🙌

Morocco Surf Trip I was recommended by a friend to come to taghazout Surf Waves surfcamp over New Years! Im so glad I did because it was one of the best weeks! I made amazing new friend. Hosts Elina and Momo were so welcoming and friendly! Made you feel right at home! Abdo , Faycal and Emma were our surf instructors and were super patient with us and they were full of life and so friendly. Its located right on the beach so you hear the waves all the time and you can watch the amazing sunsets from the roof terrace before dinner- which also was so tasty and a good variety! Highly recommended! Cannot wait to return <3

Amazing Surf House Taghazout Surf Waves is much more than a simple surf house. Once you enter that gate you can feel straight the professionality and the love that all the crew put in what they do. Everyday from early morning you can choose your best surf session. Everyone knows about the tides and they can give you useful tips about boards, waves, places to go. The house looks just your family house, very clean and built with very simple but nice wood. Nothing is left to chance! You can feel the love that comes from this house, the love for surfing, for nature, for the work that they choose to do. Its not just about surfing or having lessons, there s an upgrade in the concept to make surf lessons. A very human approach will let you simply speachless… Everything is fresh, a nice smoothie after a good session is what Maya or Momo can make for you. Playing the guitar, singing, dancing and smiling are what makes unique this place. What about the food? There's a chef that can satisfy every need, for lunch and dinner and you would not believe, you don t have to wait at all for your fantastic food, which is a blessing in Marocco. Hamid and Abdo and Lucie are there to welcome you always with a smile, like everyone that is part of the crew. Matt, Connor, Kile and Momo are always up to something, you'll never get bored with these people. Sweet Nina takes care of the web site and also she is a great photographer and video maker, a woman with a warm soul that is able to immortalize unique moments!! I spent 23 days in TSW In the beginning I wanted to move somewhere else after 10 days but I simply changed my mind about it and decided to drive around during the day, if I wanted to, but always come back to sleep in Taghazout surf Waves where the atmosphere is unique and very powerful. The view is a gift and the small village makes you feel part of it. Blondie, Abu and Maroan are always there whatever you need. Everyone has his own role and they can be professional and lovely at the same time! I just feel blessed to feel part of it now and it's beautiful to know that anytime I want there'll always be a warm place for me! All of that is Taghazout Surf Waves and even much more! The best choice you can make ever! Just let it flow and enjoy the vibes�